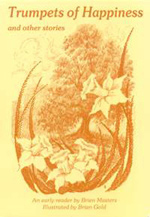 June 1998; 80pp; 25 x 17 cm; paperback
Following on from his popular first reader Patter-Paws the Fox, Brien Masters presents us with twelve further stories for school children. This time, however, his exuberant tales are related more closely to the modern, urban experience of the town-dweller. We are introduced to many new and delightful characters, both animal and human, such as Rory the guide-dog and his master Scotty, Trevor the puzzled postman, Wriggly-Caterpillar, and Fudge-fed Bee. Once again, the narratives are complemented by the inspiring illustrations of Brian Gold.
As with his earlier book, the author has taken great care in crafting structure and style, with the intention of building up the child's confidence in reading. The stories are graded according to definite principles, and the visual element of the text has also been carefully considered.
BRIEN MASTERS has performed various roles within Waldorf education. After more than 25 years in teaching, he served as Chairman of the Steiner Schools Fellowship for 10 years. Currently, with a doctorate in Waldorf education,