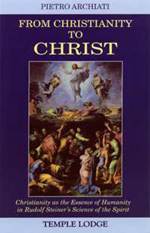 1996; 128pp; 21.5 x 13.5 cm; paperback
Pietro Archiati reaches beyond the earthly traditions and cultural expressions of Christianity to its true spiritual essence. His survey takes us from the history of an "all-too-human" Christianity to the history of actual "Christian" Christianity and its future development through a new scientific approach to the spirit.
Archiati's warmth of expression and clarity of thought bring to life ideas and concepts which for so long have been the reserve of dry theology. It soon becomes clear that the theme of Christianity is relevant to us all as the very "essence of humanity"!